Bob Frink Honored at Reception
April 24, 2017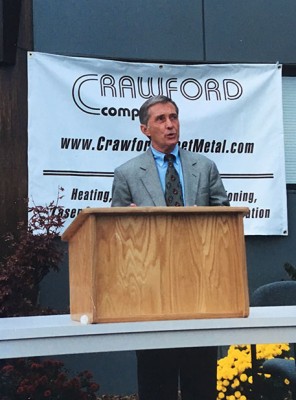 Crawford Company honored Bob Frink at a reception Friday April 22nd. The reception was attended by family, friends, past and current employees, and other community members. The Mayor of Rock Island, Dennis Pauley, also declared April 21, 2017 as "Bob Frink Day" with a city proclamation.
Frink spent 45 years at the company and 43 of those years in his role as president. Frink began his career at Crawford in 1972 as an estimator and project manager. In 1974 he became president, following the passing of company founder Harvey Crawford. Crawford was founded in 1952 and has been located in Rock Island for all 65 years. The company moved into its' present location at 1306 Mill Street in 1965 and presently occupies 67,000-sq. ft.
In the early 1970's Crawford had fewer than 10 employees and worked primarily in residential HVAC (Heating, Ventilation, Air Conditioning) and Sheet Metal markets. Today the company has 180 employees and specializes in HVAC, Plumbing, Laser Cutting, Welding, Fabrication, Micro-Brew Equipment, Monoxivent Source Capture Products, and Fiberglass Reinforced Plastic products. The company presently competes in residential, commercial, and industrial market segments within the USA and Canada. The company also has a second facility, Crawford North, located in Dubuque, IA.
"It's always been about good people doing good work and making sure they had the support they needed to be successful," said Bob Frink.