Crawford Company is your company to install a standby generator. Our Electrical and Plumbing teams work together during the installation process. We will run gas piping for natural gas to run your house generator. Our electricians will handle connecting the generator to your house. When you install with us, you reduce hassle and installation costs. We focus on whole home generators over partial home generators.

We Carry Kohler Home Standby Generators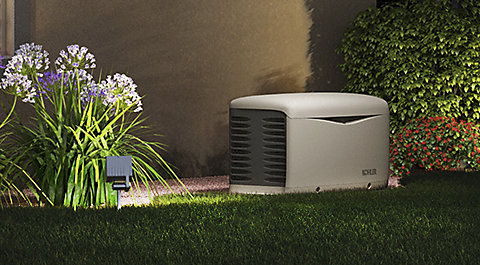 Crawford Company installs Kohler generators. Kohler is a trusted name in the generator industry and makes the equipment you need to get through a power outage. We focus on installing Kohler 10kw to Kohler 20kw standby generators. The models that we install are air cooled and fueled by natural gas.
Whole Home Generator or Partial Home Generator?
We recommend the installation of whole home standby generators instead of partial. Whole home units are going to give you the best power options during a prolonged power outage. It also gives you peace of mind that essential functions will be running during periods of extreme weather, which is also when most power outages happen.
Does A Standby Generator Add Value to a Home?
Standby home generators are a great way to provide added value to your home. Home generators can give you peace of mind and help to avoid damage to your home. They can keep your air conditioning system operating during periods of extreme heat or cold. This means you aren't worrying about freezing pipes or spoiled food. Generators also increase home value if you are looking to sell a home. An investment in a home generator can help make your home more marketable to homebuyers.

Home Standby Generator Maintenance
We offer preventative maintenance agreements for standby home generators. We service all brands of backup generators and you can always open a preventative maintenance plan on existing equipment. We will get your equipment running like new, even if we didn't install it. The preventative maintenance is performed once per year at a rate of $180.00.
Services include:
Oil change
Oil filter change
Air filter replacement
Spark plug replacement
Electrical supply verification
Start battery test and verification of power generator
Backup generator system analysis and operational inspection
>>Home Standby Generator PM Agreement Brochure
Crawford electricians will talk with you about your needs and concerns and provide expert level work for your home.
WHAT ARE PEOPLE SAYING
Crawford Plumbing did a great job installing my new water line. Any questions or concerns I had were answered quickly and the job was completed with minimal inconvenience to me
Ruby