HOME GENERATOR INSTALLATION & Servicing
When the power goes out in your home, make sure that you have backup power. A home generator gives you the comfort of knowing that your essentials won't fail in a time of need. Our team of electricians and plumbers will work with you to find the right emergency power solution for you.
Crawford Company prides itself on taking care of our customer's needs. One of those is making sure that our divisions work together to make sure that the job is done right, and you are satisfied.

WE CARRY KOHLER Air Cooled Home Generators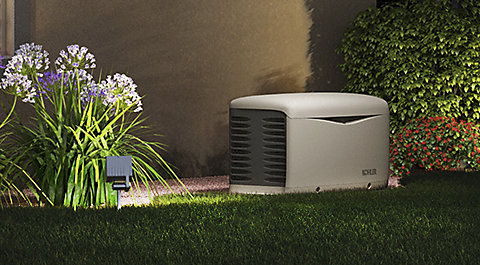 When it comes to house generators, Kohler is the brand you can trust to meet your power demands. Our focus is installing 10 to 20kw, air cooled, natural gas powered equipment. When buying a home generator you need to prioritize your essential appliances. Then think about what you would like to keep on. If a Kohler 10kw home generator can't meet those demands, you should look at the more powerful option.
Power requirements to consider when buying a home generator
You need to consider what are your essential appliances are. This will help determine the size of generator that you should buy.
Our licensed electricians will work with you to find a solution to your power needs. Overloading a generator can be a safety hazard, as well as damaging your equipment.
Is a standby generator worth it?
Home generators can help to ease your anxiety when your power goes out. A whole home generator will give you the best power options during prolonged outages. Extreme weather is the biggest cause for loss of power.
A home backup generator helps to eliminate stress and ensure your essentials stay running until power is restored. This doesn't just translate to personal comfort. Enjoy peace of mind that there won't be damage to your plumbing and electrical systems from lack of climate controls.
DOES A STANDBY GENERATOR ADD VALUE TO A HOME?
When you install a home generator, you are investing in your home. It means that you value not only your home, but also your own comfort. For a new home owner, avoiding the stress of a power outage can go a long way.
Studies have shown that homes with standby generators are more appealing when it comes time to sell. This is especially true when the generator is brand new. If you have the means to install one, you should definitely see a return on your investment.
Protect your investment with a maintenance plan
We offer preventative maintenance agreements for standby home generators. We service all brands of backup generators and you can always open a preventative maintenance plan on existing equipment. We will get your equipment running like new, even if we didn't install it. The preventative maintenance is performed once per year at a rate of $180.00.
Services include:
Oil change
Oil filter change
Air filter replacement
Spark plug replacement
Electrical supply verification
Start battery test and verification of power generator
Backup generator system analysis and operational inspection
>>Home Standby Generator PM Agreement Brochure
Crawford electricians will talk with you about your needs and concerns and provide expert level work for your home.
WHAT ARE PEOPLE SAYING
(Crawford) could have very easily sold me a new faucet, however I truly believe your employee was looking out for my best interest and in order to help me save money, I was encouraged to contact Delta (for a free replacement). I believe that type of customer service should be the standard. I wanted to express my thanks to your plumbing department for putting the customer first.
Greg Rothbardt