A Routine Service Agreement Can Help Protect Your Equipment
A routine service agreement can help you to ensure that your equipment is always working like it should. They're perfect for companies that have multiple units to look after.
Overview of The Comfort Maintenance Plan
» Service Agreement Form
» Service Department Brochure
Crawford's Routine Service Agreement gives customers peace of mind during the heating and cooling seasons and helps keep your systems running at a peak efficiency. Crawford also offers priority service and discounts on service parts.

Crawford's residential heating/cooling division has formed the foundation of the company. Crawford, a Bryant dealer, does perform service on all makes and models. Crawford holds affiliation with the Better Heating and Cooling Bureau.
BENEFITS OF THE SERVICE AGREEMENT:
PRICE PROTECTION: The cost of this agreement will be set on the "activation" date and shall not fluctuate throughout the remainder of the dates set forth.

LOWER UTILITY COST: Regular inspections will ensure that your heating and cooling systems are operating at an "optimal" potential, therefore keeping utility costs to a minimum.

QUALITY SERVICE: Crawford Company has some of the best technicians in the Quad City Area. Our technicians are competent, well trained, and dedicated to our customers. We will work to accommodate your needs and your schedule. We will give fast, dependable, and fair service to each and every customer.

"NO WORRIES": Regular inspections give our customers peace of mind. This will allow your system to operate trouble free and at a peak efficiency. You will be provided a completed checklist upon completion of your inspection by our technician "on site."

PREFERRED SERVICE: Our maintenance agreement holders will receive "preferred service." This includes 24-hour service, priority customer service, and a 15% discount on service parts.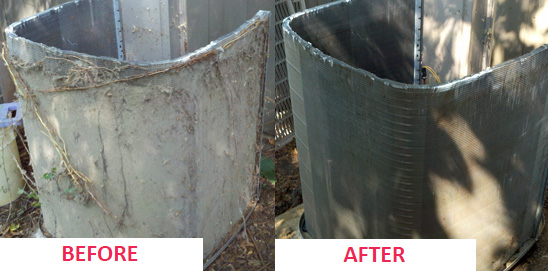 Proper maintenance will prevent issues from occurring with your equipment. The images (above) show a 5-year-old air conditioning unit before cleaning and after cleaning by a Crawford technician. In this case the lack of maintenance caused a compressor to fail. NOTE: All manufacturers' warranties require annual maintenance by qualified technicians.

COMPONENTS OF A ROUTINE INSPECTION:
FALL FURNACE INSPECTIONS TO INCLUDE: Visual Inspection of Heat Exchanger, Check of Carbon Monoxide Levels, Check of Burners, Check of Thermostat, Check of Furnace Blower and Belt, Check of Flues, Check Heat Anticipator, Check of Filter, Check of Inducer Motor, Check of Safety Controls, Check of Condensate Drain (if applicable), Lubrication of Necessary Moving Parts.

SPRING AIR CONDITIONER INSPECTIONS TO INCLUDE: Cleaning of Condenser Coil, Check of Refrigeration Levels, Check of Contactors, Check of the Condenser Fan Motor, Check of the Furnace Blower Motor, Check of the Condensate Drain, Check Filter, Lubrication of Necessary Moving Parts.
WHAT ARE PEOPLE SAYING
We cannot say enough good things about Gary and his excellent skills. We also appreciated Scott's great help to us - he went "above and beyond!
Dave and Diane Carnithan