Crawford Takes Your Ideas And Makes Them Reality
At Crawford Company, our clients know they can count on us to take care of everything - from concept to completion.
Our involvement begins during the design phase. We have our own engineering staff, which differentiates us from other fabricators. For our clients, this saves them from having to consult one firm for engineering expertise, and another to complete the rest of the project.
Plus, our team of highly skilled technicians, fabricators, and designers work closely with our clients to make sure they are getting what they want, when they want it.
Quality that measures up
From the moment a Crawford Company product first takes shape on a computer screen to the point it's delivered or installed, it goes through a series of quality checks made by our experienced technicians using the latest in quality system technology. In fact, we're one of the few companies in our industry to utilize a parts laser inspection system that checks the engineering specifications of our finished parts (Virtek 2D/3D Scanner Link).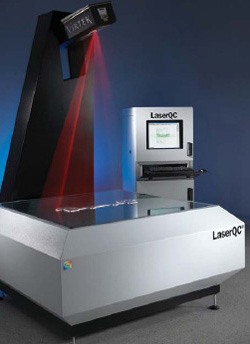 The FARO Arm (Coordinate Measuring Machine)
Our Quality Control Department utilizes The FARO Arm, an ideal tool for inspection, point cloud-to-CAD comparison, rapid prototyping, reverse engineering, and 3D modeling.
Competitive pricing
Our extensive capabilities, including high tech equipment, expert fabricators, and time-tested processes make it possible for us to keep costs down and pass savings to our customers.
WHAT ARE PEOPLE SAYING
I just wanted to extend a huge "thank you" to you and your team. Crawford does a fantastic job for us that sometimes goes unappreciated. I wanted to take this time to let you know that we are grateful to have such a strong contractor doing quality work in our plant. I personally work with your guys, Darrell mostly, but all do a great job. So again, THANKS!! for the work that your team does. Please pass this along to your crew so they know that we do see and appreciate their work ethic and fabrication skills they bring to our plant on a daily basis.
Lance Nemmers, Hormel Foods/Progressive Processing LLC