Quad Cities Laser Cutting Services
Crawford's Laser Cutting Division provides customers with precision cuts for mild steel, stainless steel, tool steel, aluminum, and plastics.
Precision Laser Cutting Machines
Crawford offers three versatile machines to meet a variety of demands: including a new 2010 Balliu 3500-watt laser.
The Laser Division, complements Crawford's long-standing tradition of excellence in specialty fabrication. Crawford presents complete services in reference to laser cutting, CNC punching, metal forming, and welding.

Laser #1 features two large pallets, each measuring 78" wide x 157" long. These pallets measure considerably larger than standard beds. Each pallet has a 2000-pound capacity. the machine has a bed accuracy +/- .002" and was re-built in 2008.
Laser #2, a 2010 model, features linear drives and a 60" x 120" dual bed. The laser is a 3500-watt Rofin. The cutting capacities are: 3/4" hot roll, 3/8" stainless steel, and 1/4" aluminum. The state-of-the-art machine features the latest technology available. The high wattage output, by the Rofin resonator, allows for higher cutting speed and allows for more competitive pricing. The new machine replaces an older 2000-watt model.

Laser #3 was re-built in 2012 and is a Cincinnati with 72" x 144" dual beds.

The division offers competitive pricing and one of the most experienced laser teams in the region. Crawford provides free estimates, simply send an email (with a dxf file) to our company address: info@crawford-company.com.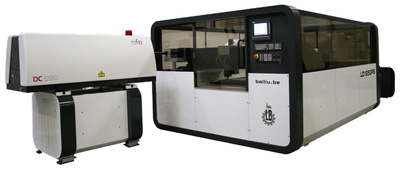 BALLIU 2010 MODEL:
Balliu LD
Rofin 3500-watt Laser
» Welding & Laser Cutting Sell Sheet
» Welding & Laser Cutting 8 Pages

WHAT ARE PEOPLE SAYING
Your service man was very helpful explaining the problem. He was very prompt with call to home.
Ted Blaser