Reynolds Celebrates 30 Years with Monoxivent
April 17, 2020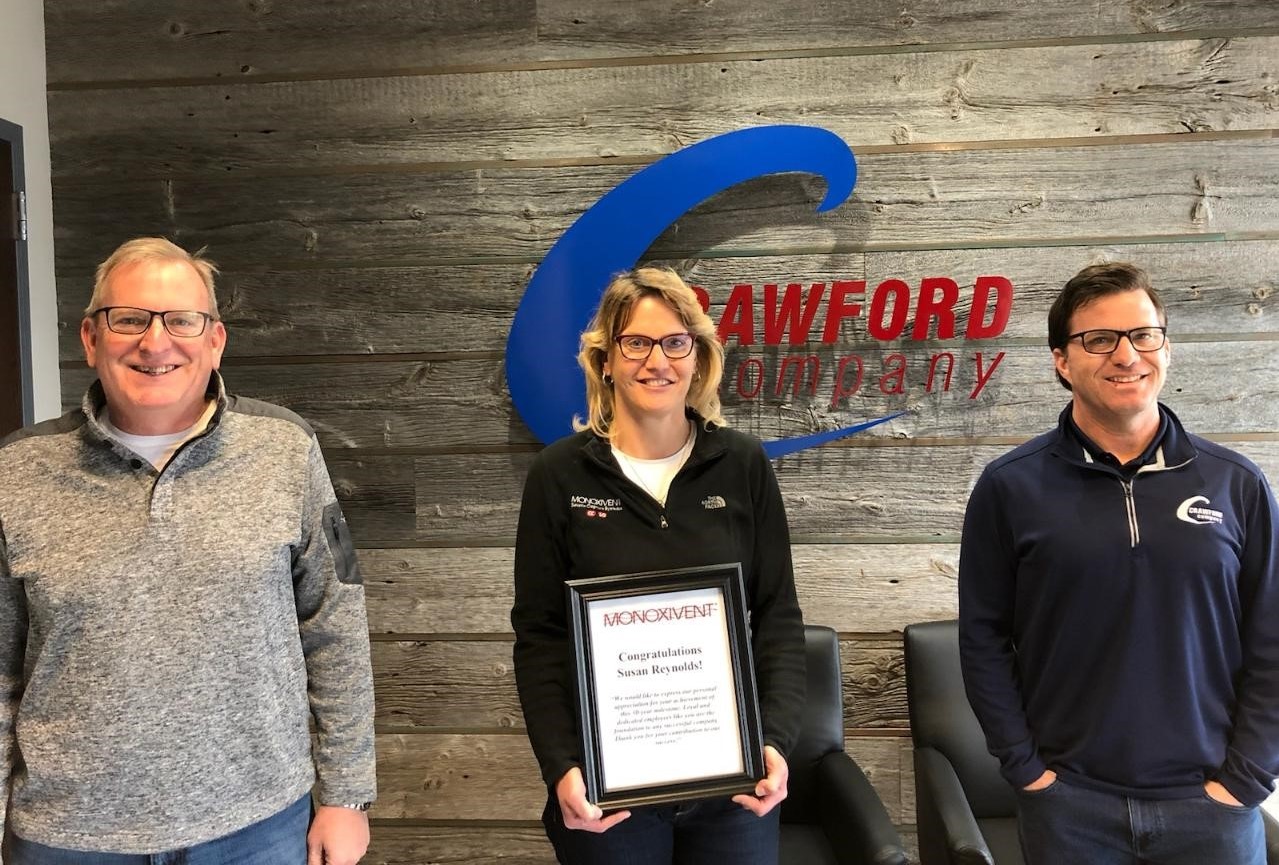 ROCK ISLAND, IL – Susan Reynolds is celebrating 30 years with Monoxivent this month. Reynolds began working for Monoxivent and Eastland Packaging in 1990 as an accountant.
In 1995 Monoxivent moved from Davenport to Rock Island. Reynolds managed purchasing, order processing and accounting.
Monoxivent moved to 2nd Street in Rock Island in 1997. Three years later, in 2000 Crawford Company purchased Monoxivent. Reynolds moved with the company in 2001 to its current location on Mill Street in Rock Island. Currently she oversees inventory control, production, scheduling and purchasing as Production Manager.
"Congratulations to Susan on 30 years with Monoxivent! That is quite a milestone and she should be proud," said Erik Swanson, Division Manager. "Susan's hard work and perseverance throughout the years have certainly helped to make Monoxivent the success that it is today. Susan is an integral part of the team and I look forward to her continued success into the future."
Monoxivent systems eliminate toxic fumes in the workplace. Monoxivent has been providing smart and innovative air cleaning solutions 1953. Monoxivent is a division of Crawford Company.
The manufacturing capabilities of Monoxivent include a complete line of vehicle exhaust extraction systems, hose reels, overhead and underground exhaust systems, rail systems, source capture flex arms, portable filter units, wall mount filter systems, cartridge collectors with air pulse cleaning, cyclone dust collectors, free hanging filter units, fiberglass reinforced plastic UnderDuct/Corrosion Composites, and custom design build services for special requirements from our customers.
Monoxivent prides itself in developing and offering products that meet the demand for "user friendly systems." The design has been based upon direct communication with end users, listening to their needs and improving upon various ideas and concepts. This method of design caters to the users of our systems, thus making the purchase of Monoxivent products a wise investment.