Live Like Jack Recognized as 2017 Crawford Cares Winner
December 12, 2017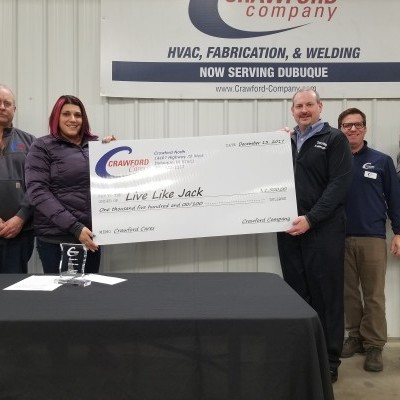 DUBUQUE, IA – For the fourth year in a row, Crawford North, a division of Crawford Company, has awarded a total of $2,250 to three nonprofits dedicated to service and making positive impact in the region.
Sixteen area nonprofit organizations were nominated through the Crawford Cares Program and over 1,700 votes were cast. Finalists were chosen from entries nominated by Dubuque region residents.
All judging was done by an impartial team not employed by Crawford Company. The overall winner received a $1,500.00 donation, presented by the Dubuque Region Manager Jack Koetz. Second place received a donation in the amount of $500.00 and third place received $250.00. The 2017 overall Crawford Cares winner was Live Like Jack, while Scholastic Engineering Research (SERI) earned 2nd place and New Vienna Tractor Pullers Association earned 3rd.
The overall winner was announced and finalists recognized at the Crawford Cares Awards Ceremony held Wednesday at Crawford North (14407 Highway 20 West, Dubuque, IA). To be eligible, the nominees had to be a Dubuque area 501(c)3 organization, have a Board of Directors and be nominated by a local resident. All nominees had to serve local causes for the purpose of having a positive impact on the region. The organizations were also required to demonstrate they were mission-focused and operating on limited resources.
"We are grateful to be nominated, $1,500 is a big deal and will be used for leadership education." – Angie Hohmann (Live Like Jack)
Summary of the 2017 Crawford Cares Winners:
Live Like Jack
Inspired by our son Jackson who gave selflessly to others and made a big impact in his short 8 years. To keep his spirit of giving alive, we have chosen to follow his lead. Jackson taught us that just one person can make a difference in the life of another. The mission of Live Like Jack is to give back, spread kindness and encourage others to do the same, while honoring the kind and giving attitude Jackson exemplified.
Scholastic Engineering Research (SERI)
Scholastic Engineering Research is a group of engineers who mentor West Dubuque and Hempstead students grades 7-12. SERI started the WDHS technology club in 2016 to participate in the Wisconsin Energy Efficient Vehicle association super-mileage and electrathon go kart competitions. (www.challengewisconsin.org) SERI provides guidance to the students on vocational skills, manufacturing and fabrication techniques, science, technology, engineering, and math. During the 2016-2017 season SERI helped WDHS build one super-mileage go kart. The students designed the go kart and competed in two competitions.
New Vienna Tractor Pullers Association
The New Vienna Tractor Pullers Association is a nonprofit organization made up of 3 guys that select a nominee from the small town community that could benefit from financial support. All profits from the benefit tractor pull goes to the family/recipient. Each year, Mike, Dave and Gary take nominations from the community and decide on which candidate is in the most need, past nominees have included cancer patients, burn victims, childhood diseases, stroke victims, other medical conditions or community assistance for fire departments, recreational activities for the town of New Vienna, Iowa. The benefit tractor pull consists of Tractor pullers from the tri-state area, live and silent auctions and a food stand. Mike, Dave and Gary spend all summer tractor pulling and helping out where needed. The NVTPA defines what a small town is, people helping people in ways they cannot do themselves.
There were thirteen additional non-profits nominated – They include:
Area Residential Care
Ark Advocates
Asbury Community Fire Department
Crescent Community Health Center
Dubuque Regional Humane Society
Dubuque Rescue Mission
Edward W. Lake VFW Post 7736
Hillcrest Family Services
March of Dimes
Riverview Center
Ski Bellevue Waterski Show Team
The Fountain of Youth
The Workshop
2016 Winners:
1st Place Special Spaces Dubuque
2nd Place Loras College Dance Marathon
3rd Place Research for the Kids
2015 Winners:
1st Place Dubuque Tri-State Share
2nd Place Hills and Dales Child Development Center
3rd Place Shalom Spirituality Center
2014 Winners:
1st Place Hospice of Dubuque
2nd Place Shalom Spirituality Center
3rd Place Dubuque Lutheran School