Crawford Company Congratulates CFO Larry Anderson on Retirement
December 22, 2022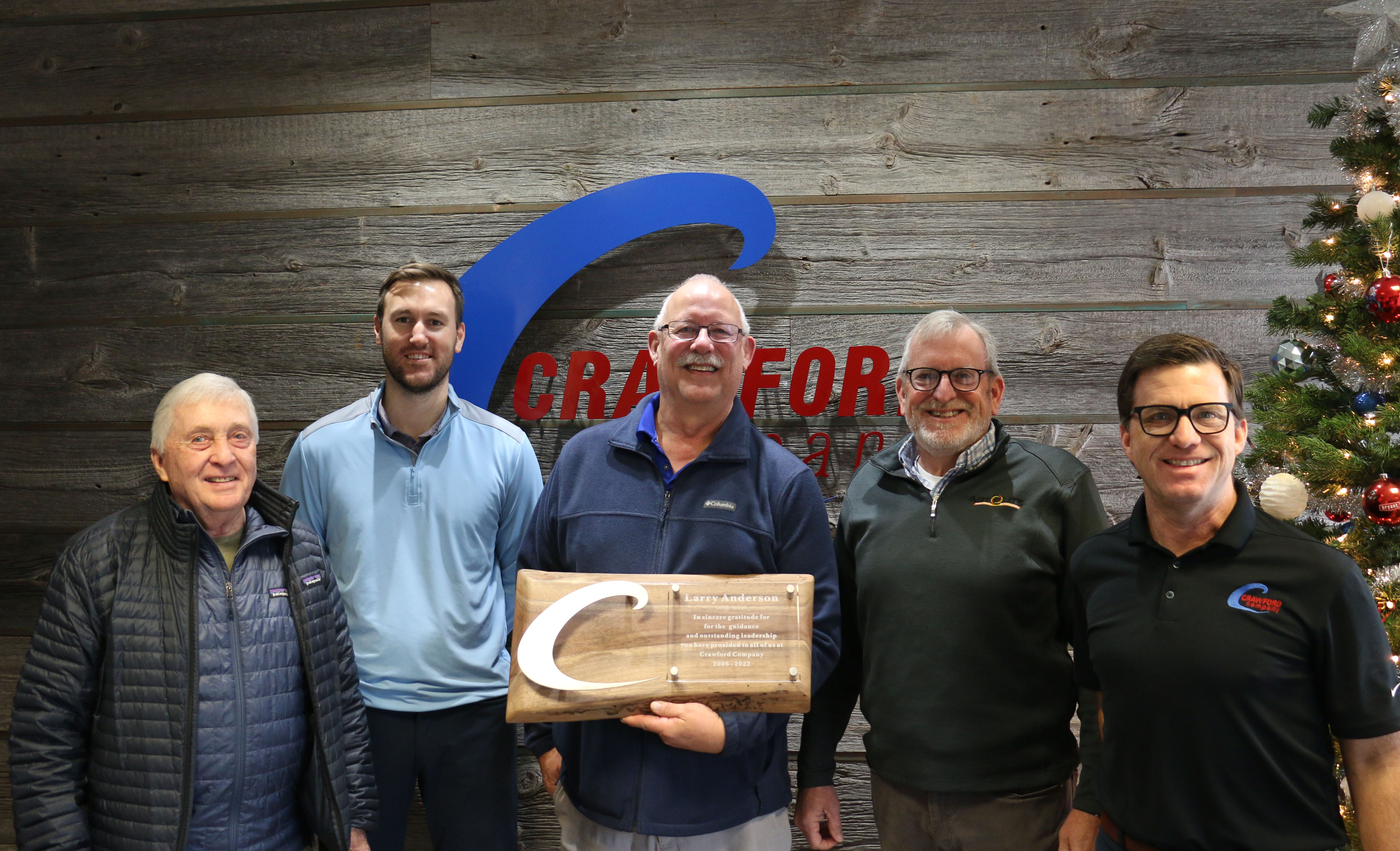 ROCK ISLAND, IL – Crawford Company congratulates Larry Anderson on his retirement. Anderson, who started with the company in 2006, has worked at Crawford for 16 years. Fellow co-workers and past co-workers joined in recognizing Anderson who served as Chief Financial Officer.
Anderson made an immediate impact at the company by implementing new controls and procedures as CFO. He has continued to expand and lead the fiscal operations throughout the company's growth and expansion. His efforts have allowed Crawford to remain fiscally strong and well positioned for future success.
"Larry does an excellent job for us with cost controls, reviewing options, and planning for the future," said Ian Frink, co-owner. "We have been fortunate to partner with him over the years. He is well respected at our company and throughout the community. Without Larry's help and support the company wouldn't be where it is today."
"Our business would look a lot different today without Larry Anderson," said Jim Maynard, co-owner. "He led us through some very tough times including a recession. Larry's conservative approach to accounting and his clench on the checkbook has helped lead to our growth and success today."
When Anderson joined the company in 2006 sales were $12.8-million and today the total is over $100-million. The company model included HVAC, Fabrication, and Monoxivent.
He helped position the company financially to diversify with expansion into Plumbing (2010), Brew Tanks (2013), Dubuque Market (2013), Electrical (2020), and Seaberg Industries (2020). Anderson also helped the company with fiscal planning to grow its' overall footprint from 47,000-SF, in 2006, to 286,000-SF today. The employee count, during his time at the company, has grown from 34 to 320.
Mark Gray, who has been with Crawford since 2020, will assume CFO responsibilities at the company. Frink, along with Jim Maynard, remain co-owners of the company.