Crawford's Green HVAC Products
Save Energy, Protect the Environment, Reduce Costs, Up to 18-SEER/Up to 96% Efficient! Crawford Company offers money saving, energy-efficient products from Bryant Heating and Cooling.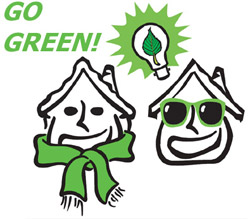 Today, protecting the environment is among the top priorities for the government, many consumers, and many companies. That's why at Bryant, we're leading the way using over 100 years of experience to develop heating and cooling products that meet our customers' environmental concerns, as well as government requirements. If you're as concerned about protecting the environment as much as we are at Bryant, take a moment to learn more about the ways you can make a difference with your hard-working Bryant heating and cooling system.

Energy Efficient Products
One of the best ways to protect the environment is to purchase energy efficient products that require fewer energy resources to operate. Not only will you make a difference to the environment, you'll also save on operating costs. Make sure your heating and cooling products have high energy efficiency ratings such as SEER and AFUE.
Energy Star Program
Energy Star promotes energy efficiency among residential appliances, because household appliances have the potential to contribute a great deal to air pollution. Energy Star promotes energy efficient furnaces, heat pumps and air conditioners, and thermostats, among other products.
Puron Refrigerant
Environmentally sound, chlorine-free Pruton Refrigerant is the refrigerant of the future. Developed to replace R-22refrigerant, Puron Refrigerant is not only environmentally sound, but is also more efficient. In fact, Bryant was among the first heating and cooling manufacturers to use a non-ozone-depleting refrigerant, such as Puron Refrigerant.

WHAT ARE PEOPLE SAYING
I am writing to acknowledge the quality serviceman employed by Crawford Co. I am a 65-year-old woman whose husband was out of town. I came home at eleven p.m. with the temperatures at minus nine degrees to a broken furnace. The house was at 59 degrees and I didn't have a clue what to do. I called my husband who walked me through a couple of simple options to try to jump start the furnace. When that failed, he suggested I call Crawford. Thankfully, a serviceman called me back. I didn't want him to come out again in the cold, so I asked him if he could talk me through a possible easy fix. He tried so patiently to help me and then decided it would be best for him to come to the house. As grateful as I was he was willing to drive from DeWitt, I was nervous about having a stranger come to the house in the middle of the night. (Old ladies worry about that.) First and foremost, when you call Crawford you can be sure of quality service, I know that. The young man, Drew, came promptly to the house and handled the situation as you would expect him to do. What was exemplary was his understanding of my upset and was pleasant, confident, capable and very reassuring. In the middle of the bitterly cold night, this man explained what he was doing in "my" terms, totally repaired and cleaned the furnace, checked flues outside and made me feel safe and warm. Those are things that company training cannot instill in a person. I thank Crawford for employing this man and I thank Drew for helping me when I was most upset. My hope is that he would be recognized and rewarded for his abilities to do his job, but also his kindness and understanding of people.
Julie Sweeney